The current situation: ready for change?
For over 40 years, we have known that traditional ways of teaching, such as classroom teaching, are inefficient. Yet, still not many changes have been made in the field of education. Quite peculiar when you think about it. A study, already conducted in 1969 (!), concluded that after three days, only 10% of written information was remembered by students, compared to 65% of visual/verbal information. This shows an increase of 6.5 times. Students not only responded faster to visual learning compared to texts, they were also more intrigued by the subject matter ánd were able to recall the information in the long term.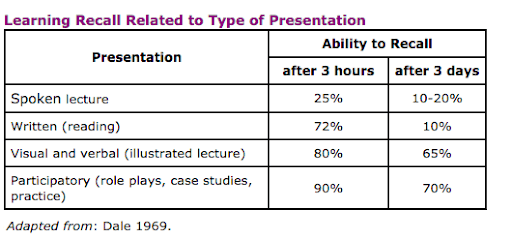 Meanwhile, learning in the classroom and in the workplace are still not visually supported. In our daily work, we still see many departments working with written-out procedures that are kept on the intranet.
In this article, we offer a small manifesto for change.
You may have many reasons not to switch to visual learning right away. Still, we will give a few arguments to consider it anyway. In addition, we will also show you how to start visual learning in your organisation today!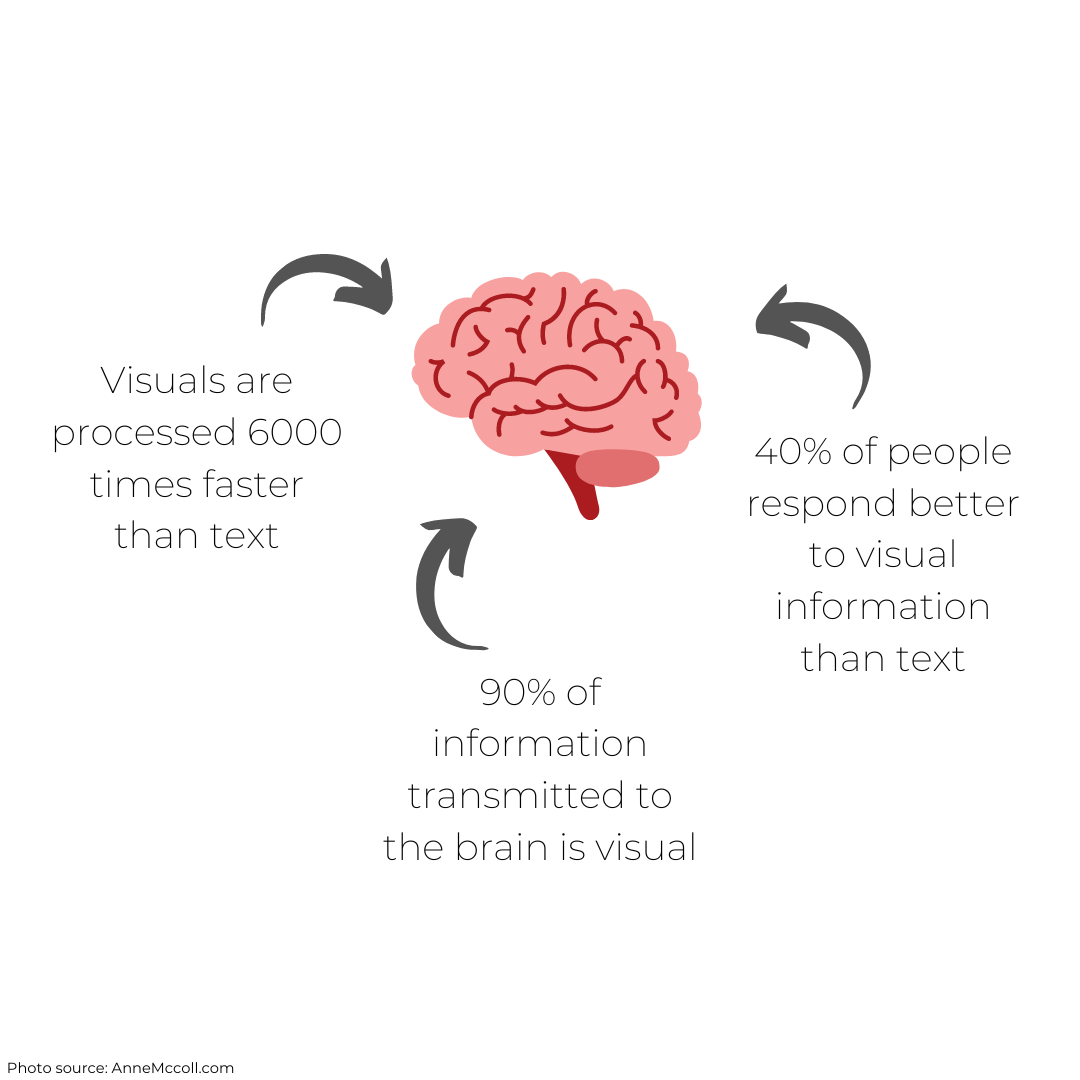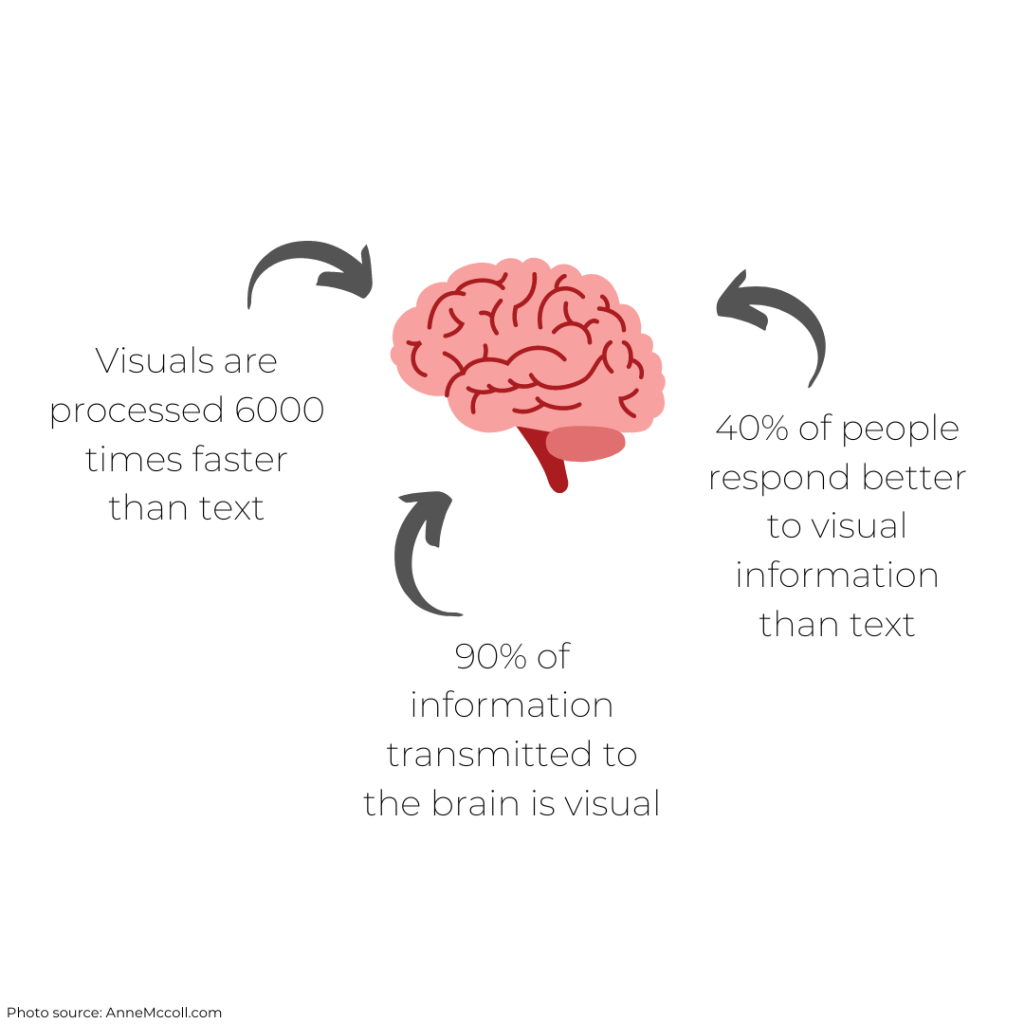 #1 Visual learning and memory
"Not everyone is a visual learner"
Not true. Everyone is a visual learner.
Visual learning is the most effective way to activate long-term memory. We therefore argue that all people are visual learners. Words are mostly processed by our short-term memory, while visuals are directly processed by our long-term memory. Unlike texts, visuals are also processed about 60,000 times faster as our brains receive up to 90% of all information visually in our daily lives.
# 2 Visual learning helps understanding
Another important reason why visual learning eclipses traditional forms of education is the fact that visual learning increases the ease with which information is processed. Our brain can understand a visual scene in less than 1/10 of a second. When viewing a textual description, the brain has to process that information first and create understanding, whereas with graphic description, understanding is almost instantaneous. Take a look at the example below.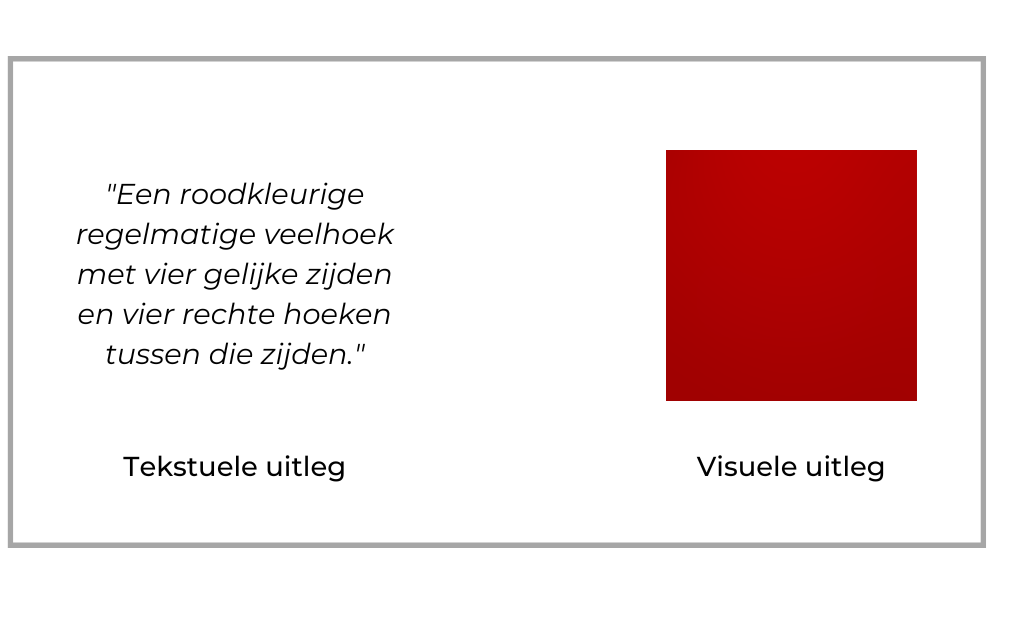 If visual learning already contributes in the simple case of the red square, it is certainly of interest for complex programmes, machines and procedures in the workplace.
# 3 Visual learning increases motivation
Visual learning also boosts motivation. Engaging employees with interesting videos or images instead of text-based manuals gives employees the drive to actively engage with their work. Creating variety in the workplace is a great way to get more dedicated, enthusiastic employees.
"Okay, I'm convinced!" Denk je nu misschien wel. Maar:
But: "We don't have the resources to start visual learning".
Of course you do! The visual learning platform GPAL!
The visual learning platform GPAL!
GPAL, our visual learning platform, innovates learning processes by using self-created short instructional videos as a way of visual learning. We believe that video instructions created by your own experts combined with social group interactions overshadow conventional learning methods. Together with our customers, we developed a very easy-to-use and accessible interactive learning platform.
"We have seen many cases where a boring written procedure becomes a fun and lively video instruction, owned by the group creators"
GPAL focuses on facilitating visual learning, which increases knowledge and skills among trainees, new employees and long-term employees. With the use of short instructional videos created by your own experts, employees learn from and with each other. GPAL is already being used by a wide variety of customers, including the Marine school of the Dutch Armed Forces, where an academic study showed the positive effects of using visual learning.
Start visual learning in your organisation?
We have an easy-to-use platform and a method to implement it in your organisation. Why wait another 40 years?