The Challenge
UWV Customer and Service (K&S) is responsible for all communication within UWV and processes millions of questions from customers, employers and business relations every year. It is therefore essential that new employees are properly onboarded.
In collaboration with GPAL, UWV K&S set up a new video onboarding in March 2021. The ultimate goal was twofold: strengthen the connection with (home-based) employees and simultaneously standardise onboarding.
"I really wanted to create a basic onboarding package for everyone. In that manner, if you come to K&S as a new employee, you follow a standardised onboarding, which is the same for everyone. The specific onboarding per department can be done by the onboarding buddies."
– Nico, HRM advisor K&S
Connecting with employees
Partly due to the corona crisis, almost all UWV K&S employees work from home. Although this has many advantages, it also brings new challenges. For instance, Nico, HRM advisor within K&S, explains that reaching employees during the corona crisis in particular was a key area for improvement. A first challenge was therefore to get better in touch with (new) employees and get more connected.
Standardised onboarding
A second goal was to create more uniformity in onboarding division-wide. Due to the lack of a standardised way of onboarding across the different departments within K&S, onboarding was mainly arranged at one's own discretion. In collaboration with GPAL, a standard onboarding process was therefore set up that made the most relevant basic knowledge available to new employees.
The Approach
In order to facilitate a warm welcome for new employees, K&S began by improving and digitising the onboarding process. In this process, two onboarding processes were set up simultaneously, the pre-onboarding and the onboarding.
The Pre–onboarding
In the pre-onboarding, new employees were sent a welcome package at home. They received an onboarding roadmap (see below) and access to the GPAL app. By scanning the QR codes on the onboarding roadmap in the GPAL app, future employees could already watch short videos about their new workplace before their first day. The videos included a welcome speech from the managing director of K&S, an explanation of the work-buddy system and basic information about the workplace and the new colleagues. This ensures that employees feel at home more quickly and already know what they can expect from their new workplace before the first day at work.
"I've never done it like this before, but I really enjoy the onboarding in this way."
–K&S employee
Different onboarding routes were also created for employees with an annual contract and for flex employees. In this way, content could easily be made available to only those employees for whom that knowledge is relevant. For example, the welcome speech of the director is of course very nice to see for both groups, while videos about how the roster programme works are only interesting for flex-employees. In the GPAL app this information can be filtered and you can easily make videos available for different groups.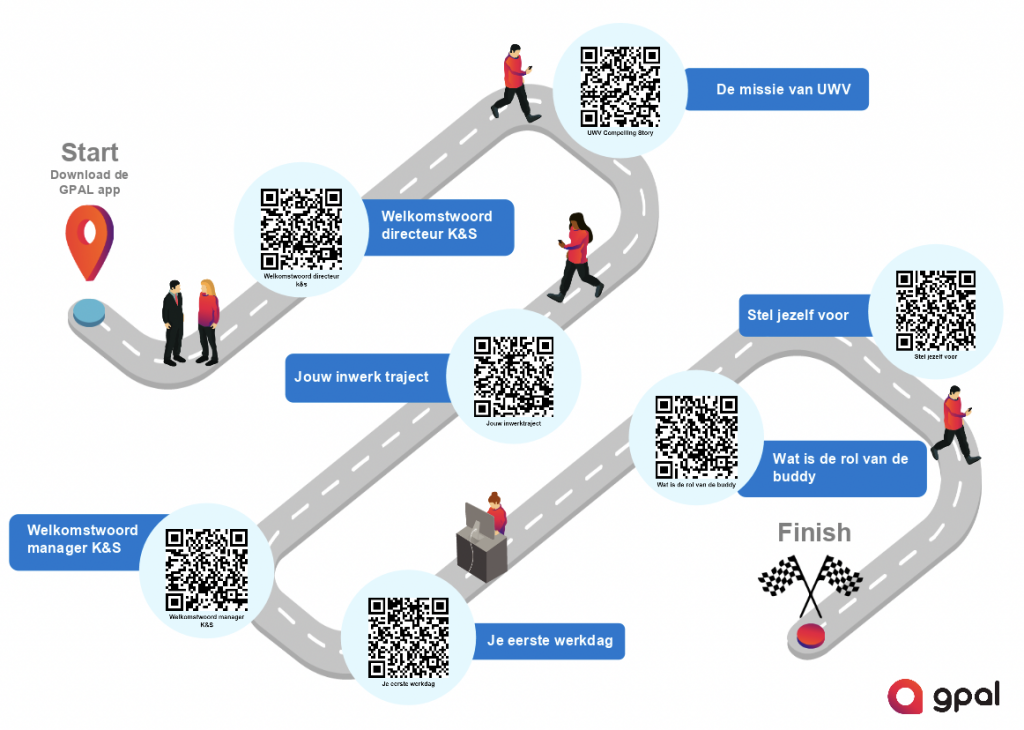 The Onboarding
The second onboarding process starts immediately on the first working day and lasts several months. This longer onboarding process is also supported by GPAL video instructions. Together with experienced colleagues, Nico makes short instructional videos on subjects like how to collect your personal card, how to log in to your work email or other daily work tasks. More and more often, independent instruction videos are made by the more experienced employees within K&S.
"That's the power of GPAL. You just pick up your phone and film the information you want to share with your colleagues. There is no easier way to set up an onboarding."
– Nico, HRM advisor
Meanwhile, already 60 videos are uploaded in the GPAL app to support the onboarding of new employees. With the structure of the app a time schedule is clearly indicated to new employees. For example, for each onboarding week, it is shown which videos should be watched and which are the most relevant.
Example instruction videos of UWV K&S
The Results
Positive evaluation score
After finishing the new onboarding process, new employees were asked to participate in a satisfaction survey. The results from this survey were overly positive. Many employees indicated that the video onboarding made them feel more welcome at UWV K&S and the use of the GPAL app and the videos were considered a fun way of onboarding. As one survey participant explained:
"I started at UWV before and then the onboarding programme wasn't there yet, so this was nice for the beginning! Definitely an added value!"
– Participant K&S onboarding evaluation
Information available more quickly
Another advantage of GPAL is that information is more easily and quickly available. A short explanation in a video is much more accessible than reading a long manual. As a result, an employee's request for help is often answered more quickly and they are better supported while working at home. Nico explains:
"The GPAL videos contain the most important information, making it easier and quicker for a colleague to find the right information. A request for help is then often answered much more quickly. At the end of the video you can always refer to the Intranet for the full story."
– Nico, HRM advisor K&S
Future
In the near future, UWV is improving their organisation-wide onboarding programme. To keep up with this development, K&S has now set up the 'Onboarding 2022' project. In this new project, videos will be improved, replaced and supplemented in order to gear the onboarding to the entire organisation.