The Challenge
During the COVID-19 crisis, a cohort unit was opened at Hospital Amstelland. Due to the huge increase in the number of corona patients, healthcare staff had to be (re)trained at an accelerated pace. However, opportunities for learning and development had become scarce and complex due to the rules of social distancing. Also, staff who previously acted as mentors or trainers were now actually needed more in care, resulting in training shortages.
"In the corona criss, the biggest challenge was to quickly train people to work on the cohort unit when we were not allowed to put them together in a class […] People who normally would not work on that ward suddenly had to learn new protocols."
– Ingrid, GPAL coordinator within Hospital Amstelland
Hospital Amstelland therefore used the GPAL app to provide 200 nurses and managers with video instructions concerning the use of personal protective equipment in a short period of time and to keep them informed about new protocols via the GPAL app.
The Approach
Within an hour and a half, a GPAL environment was created in which instructional videos could be shared with key staff members. One team of healthcare employees created video instructions and then immediately made them available for all relevant colleagues.
With two pulmonary nurses, an operating assistant and infection prevention, Ingrid made video instructions on the use of respiratory masks and personal protective equipment, such as mouth caps, splash goggles, aprons and gloves.
After an afternoon of filming, videos were available to all relevant healthcare staff on the corona ward. Thus, important actions, such as putting on a mouth mask, were made visual and understandable.
"For example, when you put on a mouth mask, you have to test whether it's seated properly. You can describe this, but it is much more convenient if someone demonstrates it [on screen]."[op beeld]
The Results
Accelerated creation, sharing and learning
The use of GPAL allowed care staff to be quickly updated on new procedures and protocols. The visual aspect also contributed to speed. For example, the instructions of a new type of protective mask could be explained to hospital workers in less than 10 minutes through a few self-recorded video instructions. Employees could thus watch at their own pace with the mask in their hands and figure out how to use it.
"Because we start filming ourselves, we become very aware of our own actions and notice that we actually don't always do [certain actions] the way the protocol prescribes. And that's where the learning starts." [bepaalde handelingen]
The visual aspect advances the efficiency of on-the-job learning for new employees. The mobile app also provides additional support for employees to refresh and maintain knowledge. After all, they always have the videos available on their phones via the GPAL App.
Employees feel more confident in their work
"What particularly stood out (in the evaluation) is that care staff reported feeling more confident in their work because they could watch video instructions."
A large proportion of staff faced a number of procedures and tasks during corona time that they would not normally perform on a daily basis. Watching short instructional videos gives care staff an extra confidence boost and ensures that quality remains high.
On the Job video instructions fit better
Apart from corona instructions, GPAL is now also used at the Women-Child Centre in the hospital. Here, plenty of videos are now being made for on-the-job learning by the in-house team of experts. They can make, upload and share videos independently.
Ingrid talks about the possibilities she envisions for GPAL.
"We now often use standard e-Learning Modules to train people, but very often we use slightly different equipment, such as a different type of needle. With GPAL instruction-videos, you can create learning that is more customised to the way of working in our hospital or unit."
Another problem with e-Learning is that the time between the learning moment and the actual application in the workplace is sometimes too long. For example, you are taught a certain technique that you don't apply for the first time until eight months later, by which time you have obviously lost it a long time. Watching instructional videos then comes in handy.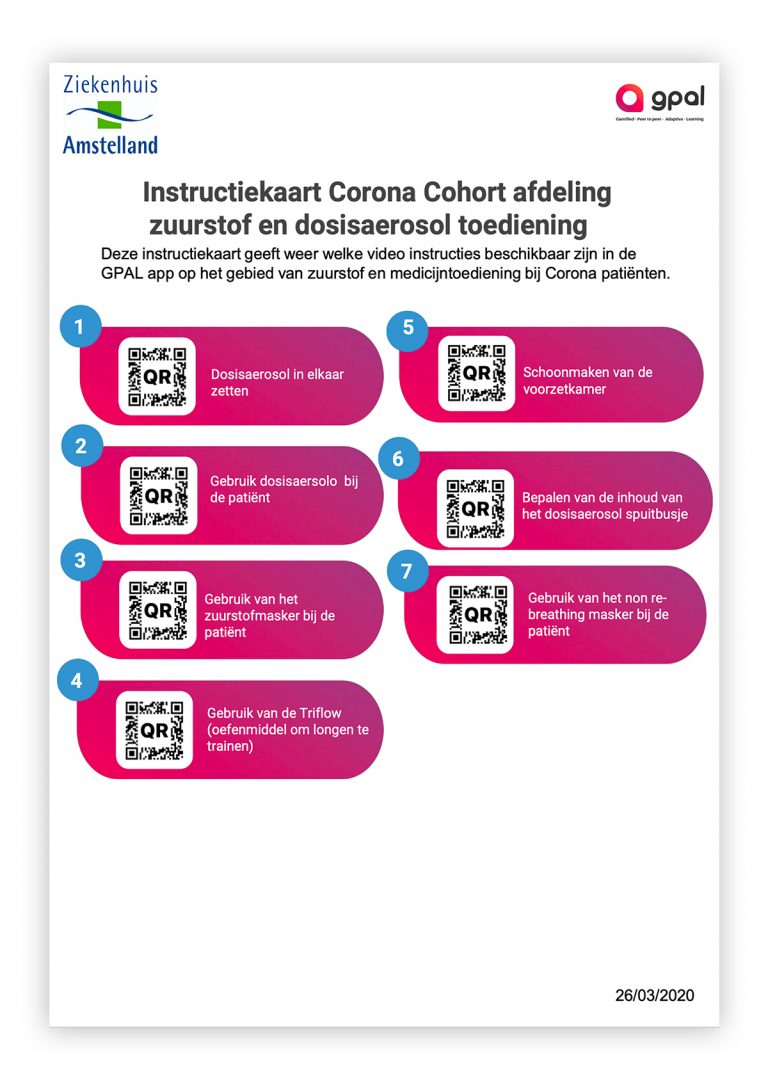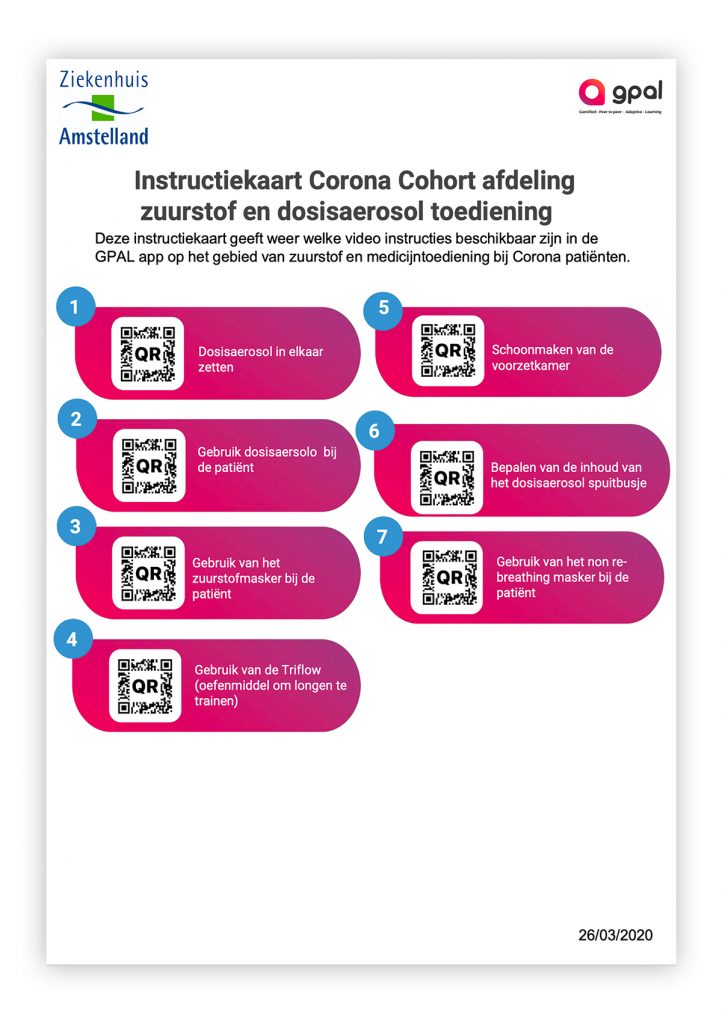 GPAL: assessment of competence
A great opportunity for the future is seen in assessing healthcare staff. For instance, Ingrid explains that everyone in the hospital has to be tested on the correct performance of complex tasks and use of medical devices and equipment. This is required by law. Yet, these assessment performances take up time of both the examiner and the employee. It sometimes happens that the care employee has a night shift and has time to be tested, but no testers are available. Or conversely, the assessor is standing in front of you to assess, but three patients have just come in and there is no time.
"It would be really nice if we could do this through GPAL, though, because then the person who needs to be assessed could film himself or herself at a time when he or she has a half-hour to spare and the assessor doesn't necessarily have to be on duty at that time and available for that ward."